Discover more from Shap Shots
covering hockey and a bit more.
Over 1,000 subscribers
I originally wasn't going to write something tonight.
It's New Year's Eve, I'm spending some time with family, but hockey has been on the TV all day. Earlier in the day I was down at the morning skate in Detroit.
So full credit to my wife, Christina, who said, "why don't you just write something?"
So I did.
This one isn't a collection of thoughts from one game, it's more of a scatter shooting from New Year's Eve covering a number of topics from the Stars, Red Wings, WJC and some Shap Shots updates.
Shap Shots is a reader-supported publication. To receive new posts and support my work, consider becoming a free or paid subscriber.
1. Detroit scored three goals in the first 3:13 of the third period to turn a 1-0 deficit into a 4-1 victory.
Elmer Soderblom scored what proved to be the game-winning goal, ripping a one-timer past Cam Talbot for his fifth goal of the season.
Soderblom, who stands at 6-foot-8, had fill out a waiver before the season to get a longer stick. While the NHL upper limit for length is 63 inches, players 6-foot-6 or taller may submit a written request to use a longer one.
Zdeno Chara famously used 67-inch stick, Soderblom told me he actually isn't sure the exact length of his stick, but said he believed it was "a little shorter" than Chara's.
"It's weird, you have to fill out paperwork, well the equipment guys did it, but I had to sign all the stuff," Soderblom said. "And this is all for a hockey stick."
2. Magnus Hellberg knew he was starting for the Red Wings on Saturday morning. But with it being his first home start for Detroit, and not knowing what team policy was on starting goalie announcements, he intentionally played coy for the cameras.
When the camera were away, Hellberg shared a fascinating story about his time in the KHL, which he told me I couldn't share until after the game.
"When I was in Russia coaches don't tell the media and keep starters secret and all that stuff," Hellberg said. "In fact you get the media trying to trick you and stuff since they won't ever find out from the coach."
"You'd sometimes have media guys saying something like, 'I heard from your agent or your friend that you are playing tonight,' trying to trick you into saying something that the coach wouldn't tell you."
That story is a good reminder, and a bit of an explainer, for why some Russian players have such distrust of North American media members when they arrive in the NHL.
3. Speaking of Hellberg…
4. Caught up with Senators assistant manager Ryan Bowness on Saturday morning as well.
Ryan is the son of former Stars coach, and current Winnipeg Jets coach Rick Bowness.
Ryan told me the Bowness family used the NHL's Christmas break to get together in Ottawa, and because the Senators played in Winnipeg on Dec. 20, Rick's wife, Judy, and Ryan's mom was able to fly back on the Senators team plane to Ottawa after a 5-1 Jets win that night.
5. Jason Robertson has never lacked confidence, but it has been fun to see how he's expanded his range as a shooter.
It's a simple thing, but simply being willing to fire from everywhere, particularly on the power play, has been a bonus in Robertson's game and one of the reasons he was the best players in all of 2022.
Here's a look at how Robertson's shot finishing has evolved over the last two seasons, courtesy of the wonderful Micah Blake McCurdy.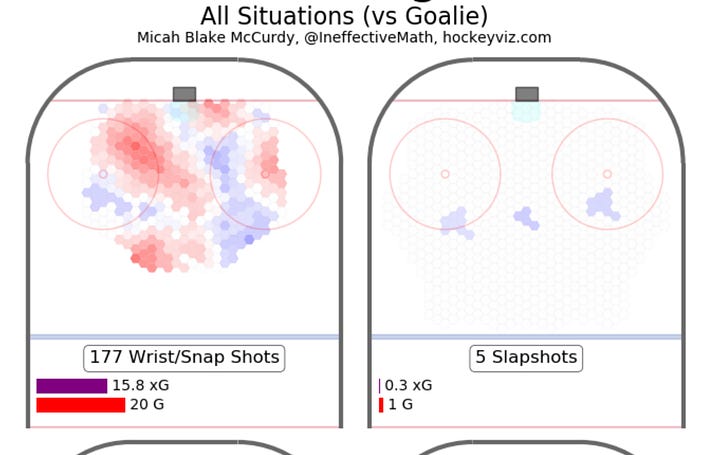 6. He'll never win it… but Roope Hintz should start getting more Selke votes.
7. Frederik Olofsson scored his first NHL goal for Dallas.
Simple play, stick on the ice, let Joe Pavelski do the work.
One of the things the Stars have been looking for through this series of essentially AHL-to-NHL cameos by players like Riley Tufte and Olofsson has been that simple offensive play where they can be used as tools by the elite players.
Olofsson will likely be back in the AHL at some point this season, but he's making a strong impression early on the Stars brass.
Shap Shots is a reader-supported publication. To receive new posts and support my work, consider becoming a free or paid subscriber.
8. A note on the Texas Stars… Neil Graham is going to be one of the coaches in the AHL All-Star Game this season.
Texas has won 10 of 11, they are on top of the Central Division, and have the AHL's best penalty kill.
Graham is also only 37.
When the Stars hired Pete DeBoer, and signed him to a four-year contract, I wondered if eventually Graham would be his successor in Dallas.
Graham will be NHL ready before the end of DeBoer's contract. Other teams will notice that. If you're Dallas, is there a way to keep him in the fold without losing a top coaching prospect to another organization?
9. I know people hate shootouts, I normally do to, but I loved watching the one between Slovakia and Switzerland as a goalie nerd earlier in the day.
Swiss goalie Kevin Pasche and Slovak goalie Adam Gajan combined to stop 15 of 20 shots in the shootout, which went 10 rounds.
10. In 2023 we are going to ramp up the podcast efforts here at Shap Shots.
The plan is to keep them tight and concise, but my old podcast partner Ryan Satkowiak and I are getting the band back together.
Podcasts will be for paid subscribers only, and are going to follow a rough schedule that includes a Stars offering on Mondays, a Red Wings offering on Wednesdays, and something NHL wide on Fridays.