Discover more from Shap Shots
covering hockey and a bit more.
Over 1,000 subscribers
Four thoughts on Kings-Stars
The Kings won 3-2
The Kings beat the Stars 3-2 on Wednesday.
These are my thoughts, for paid subscribers only for 24 hours. They'll be unlocked for everyone tomorrow evening.
1. Kevin Fiala has always been a factor against the Stars.
Between his time in Nashville and Minnesota, and now LA, Fiala has 18 points in 22 career games against Dallas.
I've always been a fan of Fiala's ability to create while entering the zone, which was fairly obvious on a pair of assists on Tuesday.
The first goal came after a Stars turnover by Ryan Suter, but was a nice settle to set up Rasmus Kupari. The second was a full-ice display where Fiala carried it through all three zones and setup a give-and-go to get the finish over to Adrian Kempe.
2. When the Stars win a face-off cleanly, they've frequently been going to a set play where the Miro Heiskanen's job is to lob the puck through quickly as multiple players cross through slot.
It's almost mechanical in the build up, puck goes back to Heiskanen, the center and the winger move with him to create a moving screen.
It looks like this and it set up the first Dallas goal.
This was not a power play goal, but it made me want to talk about the power play….and it's my site, so that's where we are going.
From the wonderful Micah Blake McCurdy, here is an idea of how well the Stars have been running this very play on the power play.
If Heiskanen hadn't shot in this position, his second option here is to turn to Robertson (No. 21 on the right side of the screen grab) who has an opportunity to re-load, rotate around the top, and shoot.
They've gone to it more and more this season, the pass to Robertson for that rotate and shoot.
Take a look here at Robertson's shot-map on the power play this season compared to last.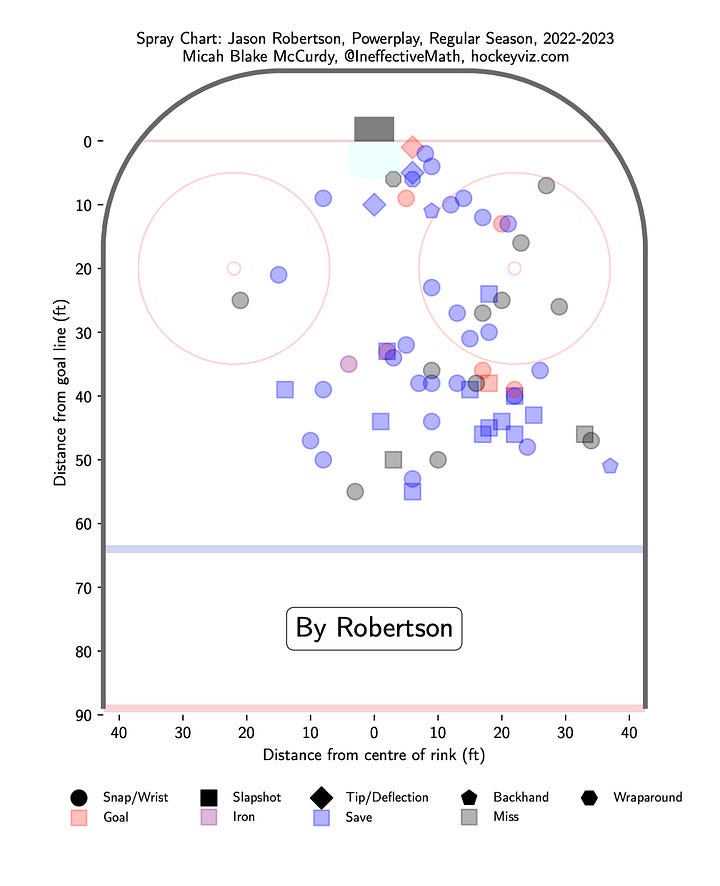 3. Nothing overly analytical about this. That pass from Joe Pavelski to setup Robertson's second period goal was pretty.
Pavelski goes from this position, essentially a non-threat, to a primary assist.
Robertson reads the play well going through the center lane. Then it's just elite linemate understanding of where the other will be.
4. A long time ago, when I was living in Austin and covering the AHL, I was doing feature work for Hockey's Future, a site which has been dormant since 2016 and wrote a feature about Pheonix Copley.
I made the mistake of saving the spelling of his name in my computer at the time. Each time I went to write about the city in Arizona, I was reminded about the unique spelling of certain journeyman goalie.
Copley has rescued a sub-par goalie situation in LA after Cal Petersen was waived and sent to the AHL. He won eight of his nine starts heading into Tuesday and by today's NHL standard, his .905 save percentage is pretty good.
And as good of a story Copley has been, he didn't have to do much work in the third period as the Kings pretty much took it to Dallas and had a 13-5 edge in shots.