Discover more from Shap Shots
covering hockey and a bit more.
Over 1,000 subscribers
Magnus Hellberg's story is one of the best in the NHL this season
This post has dogs, cool goalie pads, and weird player transactions. What else could you want?
When the Seattle Kraken signed Magnus Hellberg in the offseason they had waivers on the mind.
Going into this season, the Kraken were committed to the NHL tandem of Philip Grubauer and Martin Jones. The Kraken also were convinced and feared that Joey Daccord wouldn't make it through waivers.
Hellberg was signed as an insurance policy who could play for the Coachella Valley Firebirds if, or when, Daccord was claimed, potentially by the Ottawa Senators — who Daccord had been taken from via the expansion draft.
And the Kraken lost a goalie to the Senators.
But not the goalie they expected, when Ottawa claimed Hellberg on waivers on Oct. 3.
Hellberg played one game for Ottawa during his time with the Senators, winning and making 29 saves against the Dallas Stars on Oct. 24.
Once Cam Talbot returned from injury, Hellberg was waived by Ottawa, and Seattle claimed him back on Nov. 10, with the hopes of finally sending him to Coachella Valley.
But that plan hit a snag, too.
This is the type of story I typically save for paid subscribers only, but wanted to keep it unlocked to give some on-the-fence readers a chance to see what Shap Shots has to offer. If you like, consider a paid subscription.
If the Kraken were the only team to put in a claim in for Hellberg, they could have sent him to the AHL right away. But another team, which isn't known at this point, also put in a claim meaning Hellberg would have to be placed on the NHL roster and waived again to get to the AHL.
Doing a bit of detective work, the team that also tried to claim Hellberg is one of these six teams above Seattle in the NHL standings by points percentage on Nov. 10.
(Waiver order after Nov. 1 is determined in reverse order of the overall standings by points percentage.)
Seattle kept Hellberg around until Nov. 22 before trying to waive him once again, hoping to wait out the other team above them in the standings in an attempt to get him to the AHL.
But then the Detroit Red Wings entered the fray and claimed Hellberg on Nov. 23.
It was a curios claim.
Detroit has two goalies it's committed to on the NHL roster this season, Ville Husso and Alex Nedeljkovic, and even though Hellberg had played a game for the Red Wings last season, he wasn't expecting to land in Detroit again.
In fact, his well-designed Red Wings pads were in a storage locker back in Sweden, which a friend had to dig out and work on shipping to him after the claim.
(Hellberg's Red Wings mask was already traveling with him, it was supposed to be his back-up mask this season in Seattle.)
Detroit used an AHL conditioning stint to send Hellberg to the Grand Rapids Griffins, the goalie has made four starts in the AHL, posting a .932 save percentage and 2.50 goals against average.
But he's still technically on the NHL roster, and isn't sure what will happen at the end of his conditioning stint.
In fact, Brian's, the company that makes Hellberg's pads, was told by Red Wings equipment staff after the claim not to place an order for new pads because they truly weren't sure if they would be needed.
It's a twist-filled transactional story with a smiling human being at the middle of it.
"Yeah, it's funny isn't it?" Hellberg said. "I'm not sure where I'll go next, no idea, but you know what? I'm back in North America, I'm going after what I wanted to go after and I'm happy."
Hellberg had spent the past five seasons in the KHL, but had his European season ended prematurely last spring by the Russian invasion of the Ukraine.
It was at that point he decided to get back to North America, and Detroit gave him a one-game NHL cameo by signing him late in the season and starting him in the season finale.
"Honestly I didn't think I'd be allowed to play in the NHL last season, I thought a deadline would be passed or something, and I was ready for my season to be over once my (KHL) season was shutdown. But then I got a call that I could sign, so I did, it was a bonus game."
"It was kind of my now or never time to get over and play in North America again," Hellberg said. "I've had a good European career, but I wanted to take one more shot at sticking in North America and the NHL. I wanted to keep pursuing that dream."
And Hellberg says he was ready to embrace life as the No. 3 goalie in Seattle's organization to chase that dream. In fact he was even looking forward to the winter weather in Palm Springs, where the Coachella Valley Thunderbirds are making their debut this season.
"I'm still traveling with the Seattle pads, and the Ottawa pads as you can see, I have all the pads, all the time," Hellberg said. "I'm getting the Detroit ones sent here. Until they get here (to Michigan) I thought the Ottawa color scheme at least worked a little bit better with the Detroit jersey."
And we should take a pause to say, they are magnificent pads. It's worth using the gallery feature here at Substack to look at them side-by-side.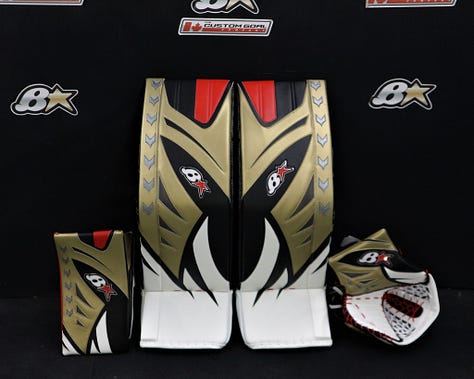 Hellberg, dubbed by some on Twitter as the "Pad God," gets his designs done by the Instagram user "Goaliecustomizer," who works with Brian's on other NHL pads as well.
"So sometimes I have a lot to say (on design)," Hellberg said. "But he's a great graphic designer and they are really, really good. So I have a lot of trust in him, and it's been a whirlwind changing teams, but because of him and Brian's I've had the right look each time."
Pads tell a story, Hellberg keeps all of his old pads too and uses them as a personal time capsule of his career, but Hellberg's story also includes key personal support from his fiancée Emma and their dog, Rupert.
"I really appreciate having them by my side and doing all this, it makes it easier that we are all together," Hellberg said. "Of course it's not easy for (Emma) with all this movement from Seattle to Ottawa and back (to Seattle) and now here. So I'm so lucky she's so supportive."
Rupert has his own fascinating backstory, he's a mutt that Hellberg says is at least 50-percent jindo. During Hellberg's time KHL he spent a season playing for Kunlun Red Star in China, where Hellberg adopted the dog off the streets of Shanghai.
"He was eight weeks old when we adopted him, now he's six," Hellberg said. "He's like 25 pounds, he's pretty awesome, he's seen the world with me. Here let me show you."
(Yes, we have the picture of the dog Hellberg shared with me.)
Now that we've checked off all the boxes of a great story (cool pads, a dog, etc…) it's time to look forward and ask, what's next for Magnus and Rupert?
His AHL conditioning stint will be over soon, and at that point the Red Wings will have a decision to make.
In theory, it could be the perfect time for Detroit to send Nedjelkovic down to the AHL on a conditioning stint and Hellberg could serve as the backup for Husso.
But that's only a short-term goal, and the Red Wings are likely well aware that at least two other NHL teams, including Seattle, would likely try to claim Hellberg is they tried to waive him for a full-blown AHL assignment.
Adding into all of this, Hellberg keeps winning every chance he gets in the NHL, even if they are limited.
He won his only game for Ottawa, he won his only game for Detroit last season. He's playing great in the AHL, and if a team needed goalie depth — and many do based off the state of goaltending this season — his $750,000 is just begging to be claimed.
And if that happens, well, he'll be ready.
"I'm stopping pucks when I get the chance, that's what matters," Hellberg said. "I'm ready for opportunity, I don't really have anything to complain about."
This is the type of story I typically save for paid subscribers only, but wanted to keep it unlocked to give some on-the-fence readers a chance to see what Shap Shots has to offer. If you like, consider a paid subscription.