Discover more from Shap Shots
covering hockey and a bit more.
Over 1,000 subscribers
Six thoughts on Stars-Islanders and Red Wings-Jets
Both teams that we tend to cover at this site won on Tuesday
This was one of those evenings where this site really serves a niche audience…
The Detroit Red Wings defeated the Winnipeg Jets 7-5, the Dallas Stars beat the New York Islanders 2-1 in a shootout.
I was tracking both from my office, with help from my 4-year-old that is slightly revolting against bedtime, and decided to empty the notebook from some game observations.
These are for paid subscribers only for 24 hours.
1. Jason Robertson, who I wrote a story about last week for D Magazine, scored his 29th goal of the season in the first period.
There are lots of simple things I love about Robertson's game, including how adds slight hesitation or changes the angle in tight areas against a goalie.
On the first goal Robertson has the chance to shoot right away, he could shoot glove side and if he does, it's likely a save. But the slight change of the angle from this spot, albeit very quickly, opens up the goal.
It's the little things that make an elite goal scorer.
2. It was good to see Denis Gurianov back on the ice after stepping away from the team for family reasons. Wishing the best to him and the family on whatever it was.
On a hockey front, in his first game in more than a month, Gurianov showed some of the pop, particularly in the overtime session he can bring to a lineup.
And frankly it's a window that Gurianov needs to capitalize on. With Roope Hintz out for at least this road trip, someone is going to win a better job in Pete DeBoer's mind, and maybe Gurianov has a blank slate to do so.
3. Jake Oettinger should been the all-star game. So should Connor Hellebuyck. It's a shame that Juuse Saros will be going instead of one of them.
On Oettinger, knowing his personality and his mentality, he loved the shootout.
Oettinger has told me before that he prefers to play road games. He likes being the bad guy, he likes having everyone root against him and he likes ruining the party.
4. There's been a lot of discourse online recently about Moritz Seider's sophomore season.
For my 2 cents… yes, it's been a bit of a sophomore slump. It's ok to acknowledge that, it's also ok to acknowledge that Ben Chiarot and Jake Walman aren't exactly top pairing defenders on a contending team.
I've spoken to Seider quite a bit this season about his game, and I've enjoyed his perspective. He's incredibly confident in his game, too confident some time, but also understands that he has to live by higher expectations.
Seider also told me earlier this week he needs to be happier with the simple play more often.
And that felt prophetic watching the first period as Seider had three assists. None where jaw dropping from Seider's standpoint, it was a collection of simple plays where Seider let others do more of the work.
Which brings me to the goal about Walman… I'm going to talk (or write) out of both sides of my mouth here. Walman isn't a top-pairing defender on a contending team, like I wrote earlier, but he has taken a larger role offensively this season and with four goals this season he's already equaled the rest of his NHL career.
The overtime goal in Pittsburgh, with the Griddy celebration, will lead his highlight reel at the end of the season, but his first-period goal on Tuesday was his best finish thus far as he took Dylan Demelo for a walk and ripped a shot home.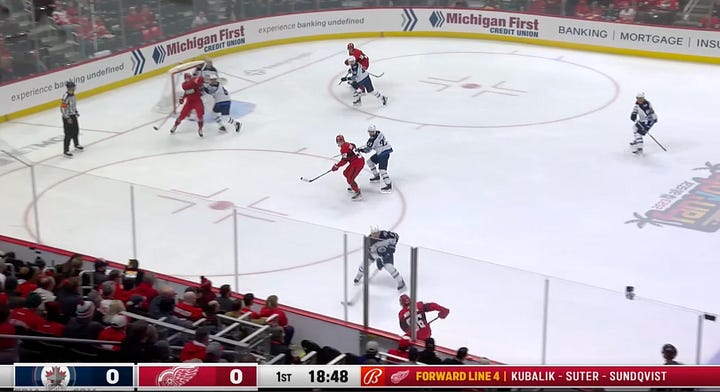 5. Some notes on Red Wings goaltending, which certainly feels like an odd topic after a 7-5 win…
Ville Husso let up five goals on 37 shots, and after he was "the Red Wings MVP" earlier in the season according to Derek Lalonde, he's come back to NHL average territory in late 2022 and early 2023.
Magnus Hellberg has been the temporary backup while Alex Nedjelkovic has been doing an AHL conditioning stint in Grand Rapids. While Hellberg has been a great story, it doesn't feel like he's going to be in Detroit for too much longer.
Sooner than later the Red Wings will have to stop carrying three goalies, Nedjelkovic is going to get another shot at the backup role, and Hellberg will likely be waived again and I would assume he'd be claimed, again.
6. I'll have a story up later this week on Kyle Connor over at EP Rinkside.
We had a good conversation on Tuesday morning about his career path, this season, and some other topics that I'll cover in that piece.
I also was curious to pick Rick Bowness brain on what he's learned about Connor this season after coaching against him for a couple years in Dallas.
And for the Jets coach, it kept coming back to the shot, and the release he's deploys on a constant basis in Dallas.
This is a long-term prognosis, prediction, but it's hard to look at Connor's career and his passion for playing in Michigan — he had a large contingent in Detroit on Tuesday — and not think he could be part of the Red Wings plan in about four seasons. Just some food for thought.